Organizations have to deal with several vendors on a day-to-day basis. Thus, it's essential to manage all the vendor's risks to maintain a strong security & compliance posture. But how?
This post will give you a complete understanding of vendor risk management to help you build a strong InfoSec posture.
Vendor risk management (VRM) is concerned with managing and keeping track of risks caused by external parties, consultants, agencies, contractors, freelancers, and other IT service providers.
Though it's not possible to eliminate all the vendor risks entirely, by implementing a vendor risk management process in your organization, you can ensure that risks do not rise to unacceptable levels.
Next, let's discuss 3 terms that sound similar but there is little difference between them.
Who is a vendor, supplier, and third party?
Vendor: A vendor is a third-party that provides services to an organization when they outsource their business-related tasks. Vendors include cloud service providers, auditors, consultants, developers, website hosts, and payment processors.
Third-party: It encompasses all the entities covered by vendors and includes business partners, venture capitalists, regulatory agencies, nonprofits receiving your donations, and customers. A third-party vendor is anyone who provides a service or product to your organization but does not work for it.
Supplier: A person or organization that provides goods and services to another person or organization is termed as a supplier. They deal with bulk items directly, which benefits the manufacturer.
Types of Risks Associated with Vendors
An organization may face many vendor-related risks, such as process risks, cybersecurity risks, contract risks, compliance issues, etc. You need an efficient VRM tool that can identify all your risks and mitigate them using strategic decisions.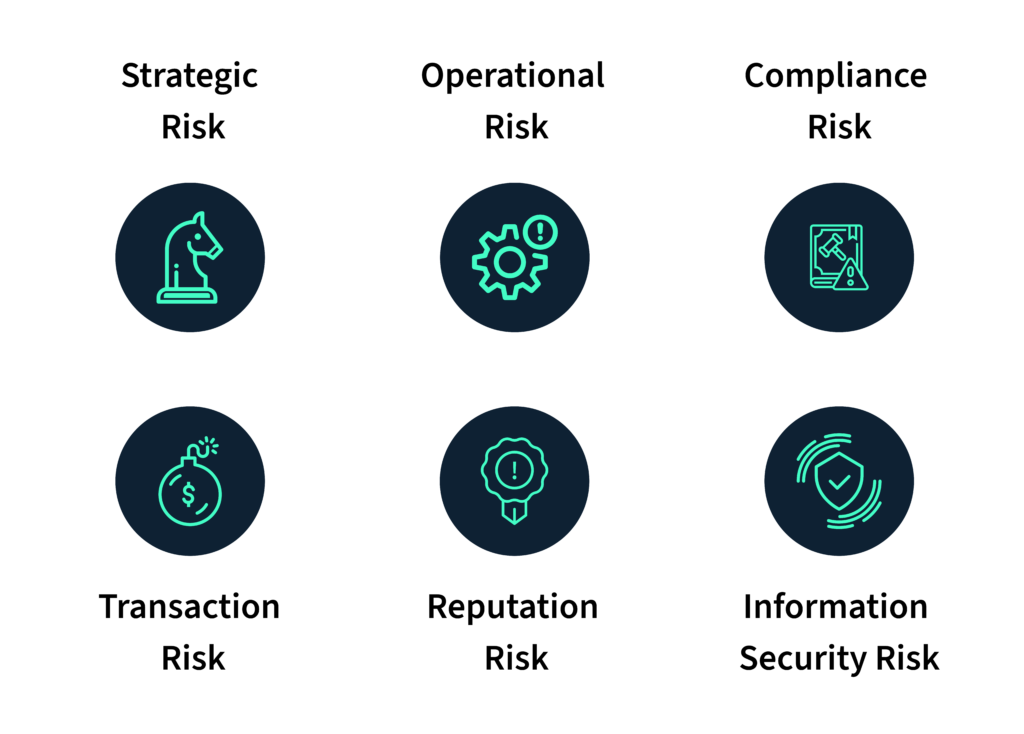 Compliance and regulatory risk: This risk occurs when a third-party vendor fails to comply with different regulatory laws and compliances that govern the products and services of its customers. It's important to know whether or not your vendors' security postures fit your compliance needs.
It is a severe risk, and organizations must follow appropriate procedures to comply with doing business in different regions of the world. If not done correctly, it leads to hefty fines for the companies.
Examples:
Workplace corruption
Data protection
Regulatory and political ambiguity
Reputational risk: If in any way, your third-party vendor could harm your brand or name, either directly or indirectly, it can lead to a loss of reputation for your organization. You must maintain a great relationship with your vendor so that any personal issue does not lead to business interruption and loss of resources.
For example: Reputational risk could be caused by the 3rd party vendor actions, such as poor service, fraud, or data breaches. Your reputation may also suffer if a third-party vendor misrepresents their relationship directly or uses your company name.
Strategic risk: Strategic risk is a common vendor-related risk for your organization. When your current vendor's decisions and actions are against your organization's strategic objectives, this incompatibility of common goals affects your organization in a negative way.
Examples:
Launching products that may be a potential competitor to your products
Using a technology that may make their products obsolete in future
Operational risk: The risk involves losing organizational resources due to either of the following i.e., vendor's failed internal processes, people, controls, or systems.
Examples:
Organizational procedures and controls
Employee behavior and mistake
Physical occurrences like natural disasters can disrupt a business
Business continuity risk: An external event interfering with your third-party vendor's ability to conduct business could affect your organization, which is why it's sometimes regarded as a subset of operational risk. It occurs when a vendor fails to test business continuity measurements and doesn't have proper disaster recovery plans, and is not prepared for technology outages and failures.
For example: The vendor's capacity to conduct business may be impacted by various events, including natural disasters, extreme weather conditions, fire, utility outages, cyberattacks, pandemics, military operations, or terrorist acts.
Importance of Vendor Risk Management
When you are outsourcing any business-related tasks, then you may have to provide access to some confidential data. In such cases, risks related to the vendor can expose your organization's flaws.
An effective vendor risk management process can mitigate disruptive events' impact while improving a company's security posture. It enables organizations to track the evolution of their supplier relationships, identify new risks, and assess supplier performance.
Vendor risk management discovers risks, such as legal issues, i.e., lawsuits or compliance violations, mainly if you work in government, the finance sector, or as a military contractor.
You must understand how much information a vendor should and can access; otherwise, it will lead to information security risks.
Vendor Risk Management Policy
A vendor management policy (VMP) allows businesses to identify and prioritize vendors who pose a risk to their operations, such as those who collect sensitive data, access your internal network, or perform critical functions. It's important to a company's overall compliance risk management strategy.
The VRM policy identifies potentially risky vendors and prescribes controls to reduce risk and ensure compliance with popular frameworks, such as SOC 2, ISO 27001, GDPR, HIPAA, and PCI DSS.
To build your VRM policy, start with the following steps:
Prepare a comprehensive vendor list and audit their access
Build a database of a risk score for each vendor
Create procedures for each level of risk
Monitor and keep risk management policies up to date
Vendor Risk Management Maturity Level
Every organization serious about risk management would like to know how mature their vendor risk management program is compared to peers and the industry.
Based on the process, the technology, and the governance strategy, a company's VRM maturity can be categorized into various levels: Initial, Repeatable, Defined, Managed, and Optimized.
The goal is to transition from an ad hoc, inefficient process to a mature, disciplined approach focused on continuous improvement.
However, reaching the goal of a mature vendor risk management program makes it necessary to break your system into several steps of more manageable pieces.
One factor in determining your maturity level could be the following question: Do you have a team or department within your organization that focuses solely on vendor risk rather than assigning it to their list of responsibilities?
Vendor Risk Management Best Practices
Although each organization's experience will be unique, implementing these best practices can speed up the process, increase productivity, and lessen risk exposure for your business.
Defining your company's acceptable performance levels and monitoring each vendor's adherence to them reduces risk and expense while increasing value, growth, and savings.
Financial, reputational, and operational threats to an organization are constantly changing. You should continuously monitor the organization's internal and external environments and evaluate the effectiveness of your controls.
Ensure you discover every vendor relationship, including unauthorized digital services (shadow IT), to understand your entire vendor ecosystem.
You should monitor and review your third-party and fourth-party risks. Your vendors' third-party relationships can compromise your security. Include fourth-party risk when evaluating high-risk vendors.
Applying uniform policies to all of your vendors will cut administrative costs. Consistency also simplifies your employees and suppliers to comprehend risk policies. You can group vendors with similar risk profiles, as this will help you apply policies or controls to common risks.
You should assign ownership to users in the policy development process. You should have assigned responsibilities for assessing, monitoring, and reviewing vendors to vendor managers. Clear ownership promotes accountability and ensures the effective execution of your VRM plan.
How to Create a Vendor Risk Management Strategy?
An efficient strategy can guide you to assess vendors' risks and mitigate them before they become a hazard to your organization. You can develop an efficient VRM strategy by following these steps:
Maintain formal policy and documents: You need to formally make a document of policies and procedures applicable to the organization, to have a streamlined regulation. It should include procedure documents with detailed roles and responsibilities distributions, including senior management and business lines.
Vendor due diligence questionnaire establishment: Before signing contracts with vendors, you should establish a vendor due diligence questionnaire to vet the vendor with valuable risk assessments. It will help you to compare vendors and assign security ratings. Furthermore, ask for evidence of certifications and penetration testing results.
Analyze vendor contracts: Establish uniform processes for review, approval, monitoring, and contract storage that would help you maintain service level agreements (SLAs), vendor termination, and security documentation.
Vendor monitoring: To have a secure vendor relationship, you need an in-depth vendor monitoring process. You can be assured of your selection if you have previous data on the vendor's services.
You can follow the below checklist to ensure the vendor's risk assessment credibility is up to the mark.
Conduct regular vendor audits.
Periodically check vendors' SOC reports, business continuity plans, disaster recovery plans, and security documentation.
Review the vendor's financial statements to analyze their growth.
Note: This may not be possible with every vendor.
Talk with IT teams of different organizations to know how they are affected when the vendor faces a cyberattack or business disruption.
Automation: Use a VRM software application to automate vendor risk management workflows. It will help you to replace manual tasks, such as generating and sending security questionnaires. It lets you stay on top of compliance requirements and continuously monitors third-party vendors.
How to Automate Vendor Risk Management?
You can use vendor risk management software like Scrut Vendor Risk Management to develop and automate VRM processes.
A VRM tool collects and manages vendor risk data and helps you protect businesses from cyber incidents and non-compliance caused by those vendors.
The automated VRM solution must be scalable, centralized, and consistent.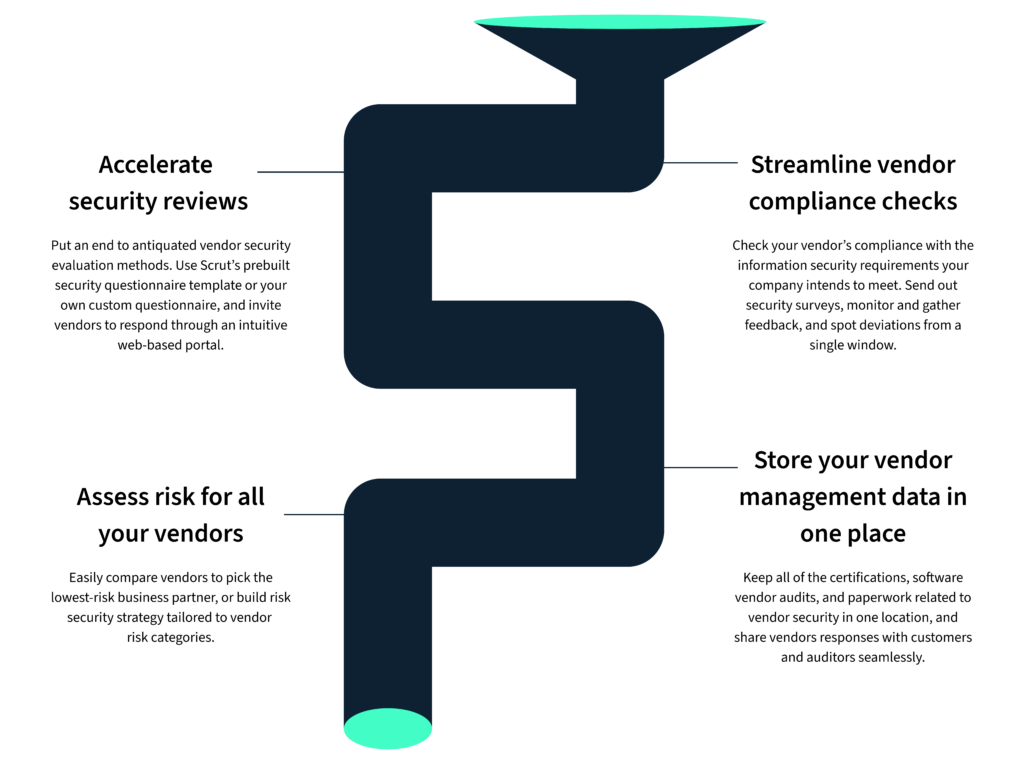 VRM tools will help you automate many aspects of the VRM lifecycle, including
streamlining vendor compliance checks,
acceleratiang security reviews,
storing vendors' data in one place,
vendor selection,
assessing their risks, and
reporting process.
Use Tools to Manage You Vendor Risks
Organizations can no longer ignore vendor risks because of the importance of addressing supply chain vulnerabilities.
VRM tools help you streamline your VRM process. Three key benefits of VRM software are listed below:
Automation of processes: You can use vendor risk management tools to automate due diligence and monitoring tasks, so you don't have to miss out on important oversight activities.
Ensures compliance: Vendor risk management tools can ensure vendors' compliance with industry frameworks and regulations. It safeguards businesses from fines and penalties.
Simple reporting: You can use VRM software to create a tailored set of reports that address any number of vendor-risk data points, such as new issues or areas of concern.
There are many VRM tools available in the market. Scrut Automation is one of them—and we will discuss it in detail, but first, let's discuss the factors you should consider when choosing any VRM tool.
How to choose a VRM Tool?
A VRM tool can handle different aspects of vendor risks, including managing your portfolio, highlighting risk areas, and calculating risk scores.
Before selecting a VRM tool, you might answer the following questions:
Does the InfoSec team have a sufficient budget and personnel to handle oversight and due diligence?
On a vendor risk management maturity scale, where does your program rank?
What are the current vendor issues?
What are the risk areas in the VRM lifecycle?
VRM tools: how do they compare with other risk management tools?
Governance, Risk, and Compliance (GRC): GRC platforms continuously monitor your security systems and processes required for the overall information security program. These tasks could be cloud security monitoring, risk assessment, vendor risk management, employee training, gap analysis, evidence collection, etc. It helps you stay compliant and proactively secure your data, thus, building trust in the eyes of your customers, partners, vendors, and investors.
Cloud security posture management (CSPM): The cloud security posture management tool is a security solution that helps assess and review cloud environment configurations. CSPM tools automatically monitor risk in public cloud service and security settings. A CSPM solution is the more secure way for any industry to secure cloud configurations and private data.
Security and Information Event Management (SIEM): SIEM is a security solution that assists organizations in identifying threats and vulnerabilities before they disrupt business operations. SIEM combines two functionalities; the security information management (SIM) module, which focuses on collecting, analyzing, and reporting security threats and events, and the security event management (SEM) module, which performs real-time system monitoring, alerts network administrators about critical issues and establishes correlations between security events.
How Scrut Helps with Vendors Risk Management?
A key component of your risk management program is understanding who your vendors are, how they manage their risks and the potential effects on your business. To develop a better understanding and automate this process, you can try your hands on the Scrut vendor risk management tool.

Scrut provides a fast, smooth, and smart vendor risk assessment for your organization in a single window. It develops a rapid, effective, and efficient method for evaluating, monitoring, and managing vendor risks. The tool lets you know how your vendors are doing and whether the security posture fits your organization.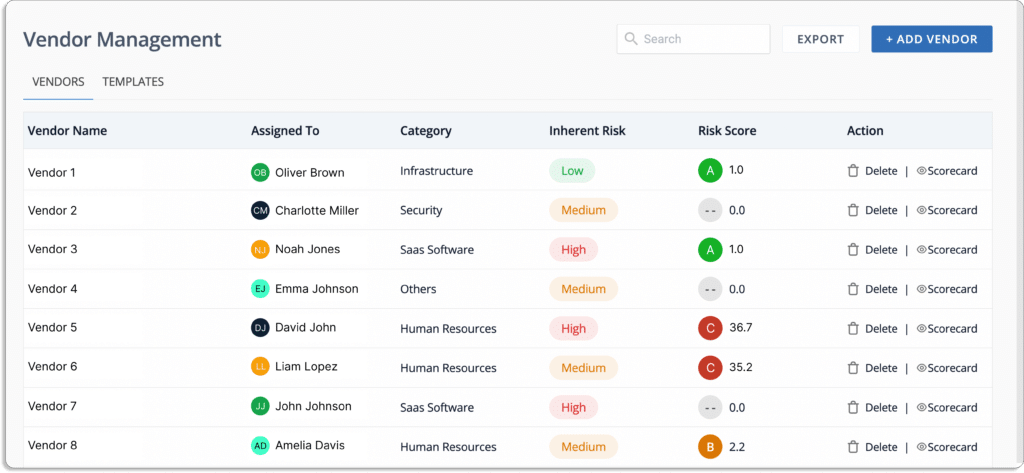 Key features of Scrut Vendor Risk Management
With this platform, you can automate vendor audit programs and conduct audits to assess vendor risk profiles.
It provides you with effortless vendor management where you can develop individual programs to manage vendors of all risk levels.
You can compare vendor responses with an intuitive dashboard and make intelligent decisions to mitigate vendor risks.
You can use the console to provide auditors with vendor security reports to manage proof of compliance.
Now, let's discuss how Scrut vendor risk management works.
Upload a security questionnaire: Scrut's efficient vendor risk management tool lets you upload your security questionnaire, or use our pre-built templates. It provides an end to old-fashioned vendor security evaluation methods.
Invite vendors: You can invite your vendors to the platform to fill out the security audit questionnaires. It helps you compare vendors to pick the lowest-risk business partner or build a risk security strategy tailored to vendor risk categories.

Assess InfoSec posture: It provides quick insights into your vendors' compliance and information security posture. You can send security surveys and spot deviations from a single dashboard.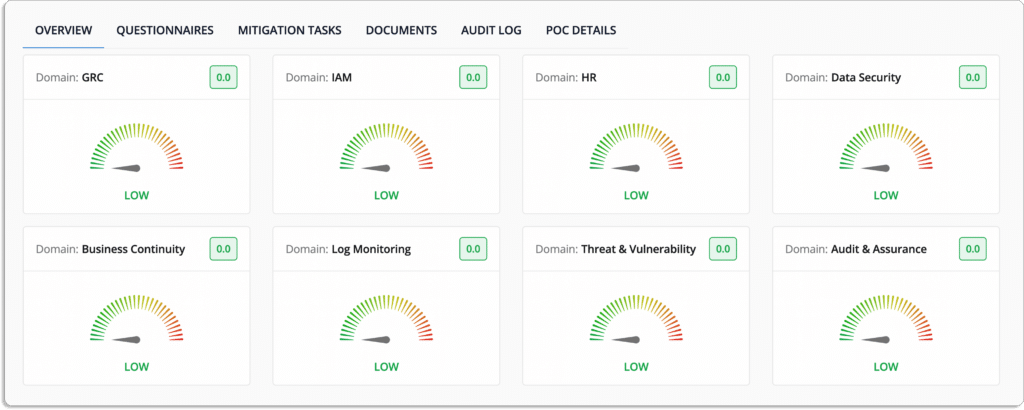 Share review data: You can quickly share vendors' review data for compliance and audit purposes. The tool keeps all of the certifications, software vendor audits, and paperwork related to vendor security in one location. This software seamlessly allows you to share vendors' responses with customers and auditors.

Many growing startups and mid-market enterprises use Scrut to help them build their risk management program, automate governance, and monitor security controls. To learn more about how Scrut can help you with VRM, schedule a demo.